CFRP
We combine carbon fiber and resin, providing material with enhanced features, that is not possible using only a single material.
PROPERTIES AND USES
CFRP is 1/4 the weight of iron and is rigid. Also, CFRP has excellent x-ray transmittance and
conductive properties, drawing attention as an advanced composite material.
Making the most of these features, CFRP is gaining acceptance in a wide range of fields such as
sporting goods (golf and snowboarding) and space equipment (satellites and rockets).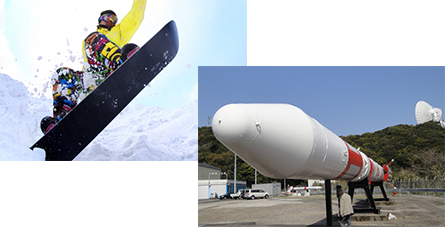 SUGGESTED USES
Fishing Boat

CFRP does not rust since it is not produced from iron. It's reduced weight lightens the entire
vessel, increasing load capacities and energy savings.

Medical Equipment

CFRP, with excellent x-ray transmittance and conductivity properties, is becoming a preferred
material for medical applications.

Auxiliary instruments

It is being adapted for use in various medical products since it is light and sturdy.

Matrix resin
Thermosetting resin
Epoxy, Unsaturated Polyester, Vinyl Ester, Phenol, etc.
Thermoplastic resin
Acrylic, Polycarbonate, Nylon, PPS, PEEK, etc.
material

Features of Thermosetting resin&Thermoplastic resin
| | CFRP | CFRTP |
| --- | --- | --- |
| Matrix | Thermosetting resin | Thermoplastic resin |
| Molding work | △ | ○ It is simplified with thermoforming. |
| Heatproof temperature | Around 120 to 220 ℃ | Around 70 to 80 ℃ |
| Mass production | △ For monolithic molding (large scale) | ◎ Small & Joining |
| Strength | ◎ | ○ |
| Post processing | Vulnerable to a circular hole, notch, and corner | The same processing as metal |
| Reuse | △ Labor | ◎ Easy |
Molding methods
Sheet winding molding
This is a process where you wrap prepeg (a plastic molding compound which is impregnated
sheet-like fiber with resin that is then semi cured) outside of a rolling mandrel (core metal),
remove the mandrel after thermal curing to mold a pipe shaped object. This process is used to
mold pipes, fishing rods and golf shafts.
Autoclave molding

Resin transfer molding
In this molding method you place reinforced fiber into a mold and pour resin, under pressure,
into an airtight container. "Transferring resin" is one of the greatest methods as it does not
require a pressure vessel, such as an autoclave, and does not produce any waste (bag or seals).
This method has excellent dimensional stability during the molding process as it uses an actual
mold.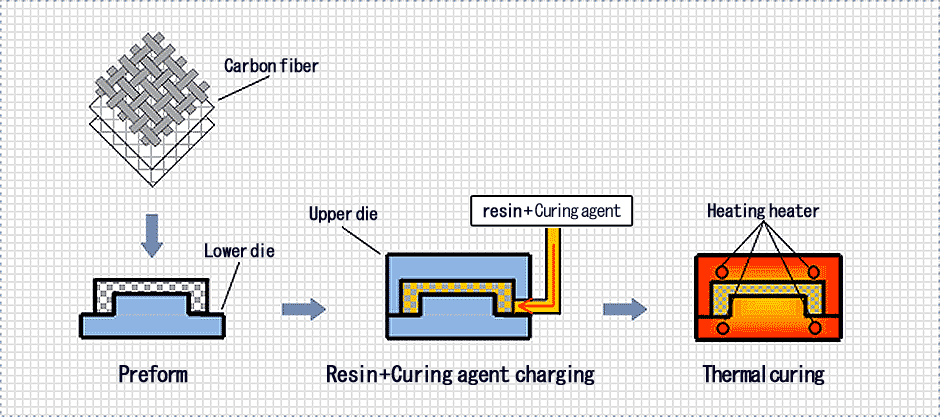 Press molding
This is a method in which a 2 part mold is installed into a press, which is then molded with
pressure and heat for plasticity and/or deformation. This method allows the use of a cassette
type mold which is suitable for low volume production runs, such as prototypes.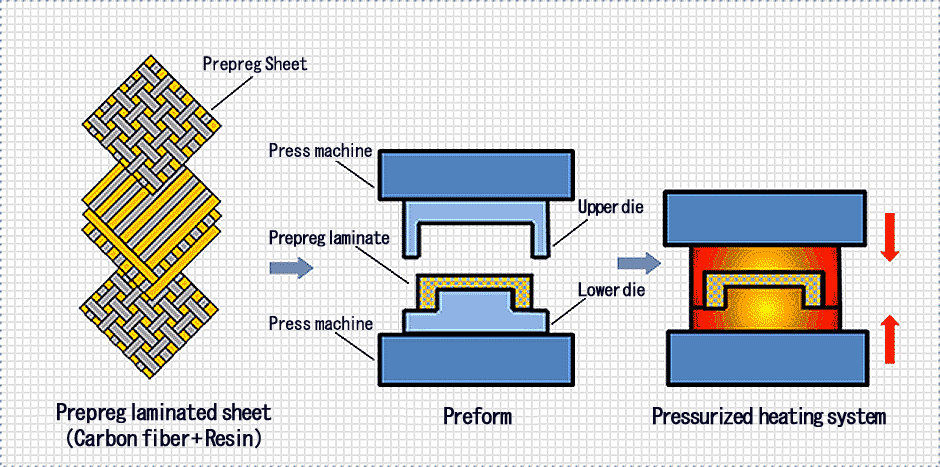 Hand lay-up molding
This is a type of FRP (Fiber Reinforced Plastic) molding. Hand molding after laminating soft
sheet like FRB (before curing) impregnated fiber with resin on a mold with a brush or roller.
This method relies heavily on hand work and is suitable for larger size products reinforced by
continuous fiber. Perfect for molding a boat or even a bathtub.